Our Management Team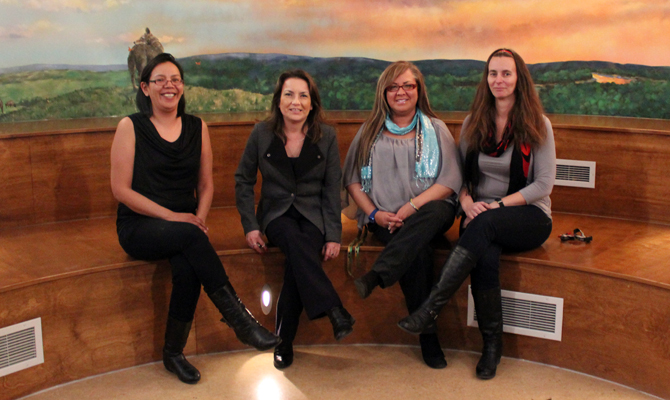 The Siksika Medicine Lodge Management Team is here to help youths and their families as they make their journey through recovery. With our extensive backgrounds and years of experience, it is our priority to make sure our clients acquire new skills and achieve long-lasting success.
SML's Treatment program also consists of a Psychologist, Outreach Workers, Child & Youth Workers, and Support Staff.
Meet Our Team

Yvonne Olivier, BA
Yvonne has been the Executive Director of the Siksika Medicine Lodge (SML) since August 2010. She served as Acting Executive Director from January to July 2010. In this capacity, Yvonne manages the day-to-day operations of the centre. Yvonne holds a Bachelor of Arts in Psychology from the University of Calgary in Alberta, and is an active member of the Alumni.
Prior to working at SML, Yvonne worked as a Mental Health Coordinator on the Siksika Nation, overseeing planning, organization, direction, implementation, and evaluation of the program. Yvonne was the lead proposal writer for the Youth Solvent Addiction Program currently on the Siksika Nation who also co-wrote and/or assisted in preparations of proposals for the Residential Health Support Program (RHSP), National Aboriginal Youth Suicide Prevention Strategy (NAYSPS), and Trauma Response Protocol/Healthy Attachment to Aboriginal Health Transition Fund (AHTF) on the Siksika Nation.
Yvonne was also actively involved in coordinating the Siksika Seven Stars Children's Clinic that specialized in Fetal Alcohol Spectrum Disorder (FASD) as well as the screenings and assessments for the Siksika Head Start program on the Nation. Yvonne currently resides in Calgary, Alberta.

Tanya Sleigh
Tanya is the team leader of the program responsible for supervising the front line staff as well as ensuring our youth have access to programming needs to assist during this difficult time. Tanya is from Siksika, AB and has dedicated her life to helping youth realize their full potential and has had the opportunity to work with high risk youth for the past fifteen years. Tanya's passion for working with youth is demonstrated daily through her commitment to professional development for both herself and her team as well as in her ability to adapt the program to fit the ever changing needs of our clients.

Melanie Many Bears
Melanie has been working as the finance operator since June 2010, prior to moving to SML she worked in the finance department with the Siksika Health Services. She also enjoys interacting with the different youth that come thru our centre. Melanie enjoys attending her kids/nieces/nephews sports, also reading and golf.

Stacey Running Rabbit
Stacey has been the Teacher for the Siksika Medicine Lodge (SML) since January 2011. In this capacity, Stacey is responsible for the delivery of the educational programming for the clients, during their treatment process. Stacey holds a Bachelors of Physical Education (BPE), with a major in Leadership and a Bachelors of Education (Bed), Major in Physical Education and Minor in Social Studies both from the University of Alberta.
Prior to working at SML, Stacey has worked in both the provincial and federal education systems, within Alberta and the Northwest Territories. She began her teaching career in Inuvik, NWT and has made her journey eventually to southern Alberta. Stacey has vast experience in the multi-grade classroom environment and programming for youth with learning difficulties.
Stacey is also actively involved in the Alberta Teacher's Association as an Association Instructor. This allows her the opportunity to travel through the province and deliver workshops to fellow colleagues on various topics. Stacey currently resides on Siksika, Alberta.